PRO JUMPING FITNESS TRAMPOLINES
A good fitness trampoline should be safe, high-quality, light and functional. PRO Jumping Fitness has several types of fitness trampolines that offer a comfortable – and dynamic - fitness workout.
About our trampolines
PRO Jumping Fitness trampolines are completely safe and built to offer the most efficient training experience possible. Our new and improved trampolines are 100% handmade and created from the best-quality, technically advanced materials, giving them an unrivalled edge in the market.
Today, PRO Jumping Fitness trampolines aren't just used in sport, but also in medicine and physiotherapy!
A PRO Jumping trampoline consists of a closed, steel octagonal frame, which is supported by eight legs at the bottom. A removable (and height-adjustable) handrail can be attached to the front. The jumping mat is fitted to the frame with a custom-made rubber belt.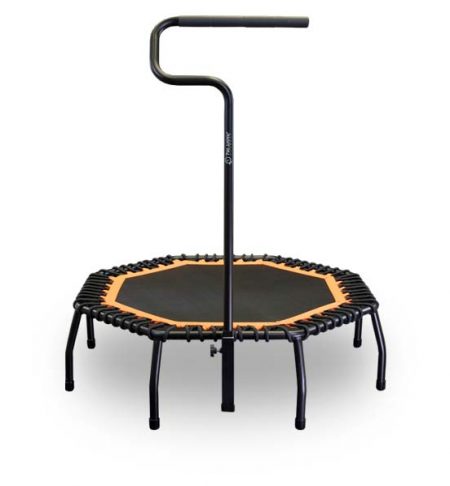 Our standard steel trampoline
Our high-end, quality fitness trampoline is made from stainless steel for professional and commercial use. PRO Jumping Fitness' trampolines are designed for use in gyms, schools, for group exercise and home use.
After years of research, we developed our fitness trampoline, which is now offered exclusively for jumping sports. Its technical features allow for a consistently good, safe and healthy jumping technique.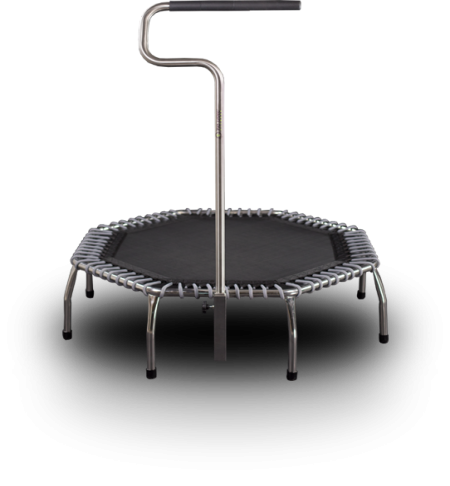 The medical inox trampoline
Our professional medical inox PRO Jumping Fitness trampoline has huge potential for use in health and medical care.
clinics
health & wellness
medical centres
physiotherapy centres
rehabilitation centres
weight loss centres
The medical inox trampoline combines quality with great design and practical functionality.
Contact us about our medical inox trampolines.
PRO Jumping Fitness trampolines are patented and have the TÜV certificate to confirm quality and safety. The trampolines are entirely handmade, produced in Australia and are tested according to standards for medical use.
Why purchase a PRO Jumping Fitness trampoline?
They're totally safe, made of superior quality, quiet, very light and easy to handle
The jumping mat has a relatively large surface, making it simple to carry out a wide range of exercises
Our jumping mats come attached to the rubber belt, giving it an advantage over other commercially available trampolines. The rubber belt transmits kinetic energy to the body in a safer, more efficient way that protects your bones, organs and joints
The special handrail is designed to ensure your safety and stability
PRO Jumping Fitness' trampolines are versatile and can be used in a wide range of programs, such as medicine rehabilitation, training with kids, adults and mature-age clients
Trampoline specifications:
Maximum load: 250 kilograms / 550 pounds
Diameter: 120 centimetres
Whole weight: up to 14 kilograms
Height-adjustable handrail: Small (S), Large (L) and Extra Large (XL)
Fitness trampoline colours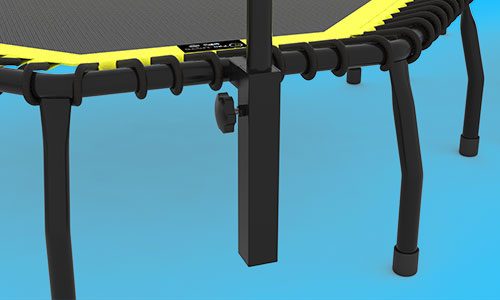 ---
THE FRAME
Our frame is octagonal and made of a special lightweight steel tube that's 1.5 millimetres thick and 30 millimetres in diameter.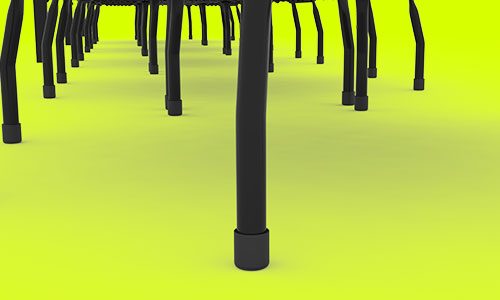 ---
THE LEGS
Stability and support are so important for any trampoline fitness workout. Our trampolines have eight legs and special vinyl anti-slip caps, which help to prevent slipping. Even better – they won't leave any marks on the floor!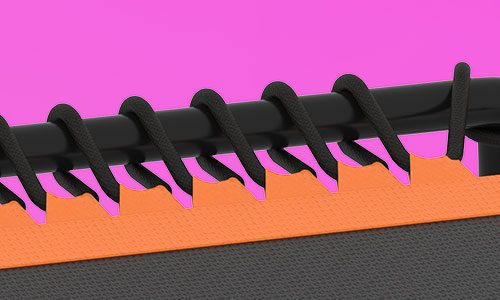 ---
THE RUBBER BELT
Rather than using metal springs, the PRO Jumping Fitness trampoline makes use of a custom-made rubber belt. The belt has what we call 'high-dynamic expansion,' which will give you a smooth (and quiet) exercise experience.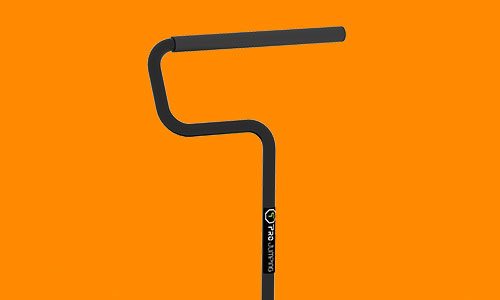 ---
THE HANDRAIL
You want your training session to be functional, safe and comfortable for all involved. Our handrail is not only height-adjustable to suit all clients but is also ergonomically designed. The handrail is made of a lightweight steel tube.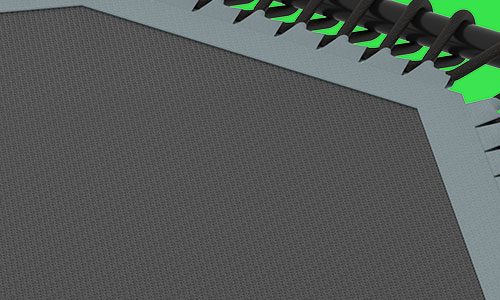 ---
THE JUMPING MAT
Our jumping mats are made of a nylon material that's both anti-slip and water-resistant – perfect for a tough, sweaty workout. They also dynamically expand in both directions, which help to keep your feet in an ergonomic position while training. For extra safety, our mats are also reinforced with a repeatedly-stitched textile tape in a variety of colours.
Looking for spare parts? We have plenty in stock. Get in touch with us and we can deliver them to you as soon as possible.